International Geoscience Education Organisation
Honorary Awards
Award presented in Shimane, Japan, 2022
Introduction by Rajasekhariah Shankar
The International Geoscience Education Organisation (IGEO) honours at the Assembly of its Council outstanding earth science educators/ earth scientists who have made significant contributions to earth science education. I have the honour to announce the names of two such earth scientists who will join the galaxy of brilliant stars who are recipients of the Honorary Award of the IGEO.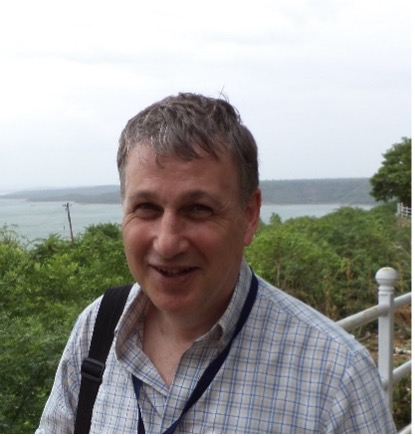 Christopher John Henry King
I am privileged to announce today that the HONORARY AWARD of the International Geoscience Education Organisation is awarded to Christopher John Henry King. Though our beloved Chris, as he was affectionately addressed, left us on February 20th this year, he is with all of us in spirit today. His infectious smile and charisma pervade the atmosphere across the world.
Chris King was born on December 19th, 1949 in Christchurch, England. He received his Geology degree from Bristol University, M. Sc. with distinction in Sedimentology from Reading University and teacher training in science and geology education at Keele University.
He started his career as a diamond prospector for De Beers and was lucky to establish a diamond mine! Subsequently, he became a geology teacher, the Head of Lower School Science and School Development Officer, and a professor of earth science education at Keele University. He was also Director, Earth Science Education Unit in Keele which, over 17 years, has presented Continuing Professional Development workshops through a national facilitator network to ~ 37,000 teachers across the UK.
It appears to me that Chris had a well thought out plan and strategy to enhance the quality of earth science education in schools. He realised the school teachers' lack of formal education or training in imparting earth science education, lack of proper earth science syllabus in school curriculum, and the lack of teaching materials, hands-on training and field learning. To rectify this situation, he organised teacher training workshops, drew up the International Geoscience Syllabus, wrote a text book titled "Exploring Geoscience across the Globe" and published doable experiments through the Earthlearningidea website. This website has published > 200 activities to help school teachers demonstrate earth processes in simple ways to their students. These freely downloadable activities have been translated into nine other languages.
He created synergy among IGEO, COGE and IUGS to establish the Geoscience Field Officers program to train selected participants from different countries in effective geoscience teaching using hands-on activities and developing critical thinking and analytical skills in students.
Chris was instrumental in establishing the international conference on Geoscience Education (GeoSciEd) in 1993 in Southampton. It is now a reputed platform for earth science educators and researchers to share their ideas and activities, knowledge and experiences every four years. All this is happening in Shimane, Japan in 2022 during the 9th edition. He was Founder Chair (subsequently Adviser) of the International Geoscience Education Organisation, Chair of IUGS-COGE from 2016 until his demise, and Chair, Education Committee of the European Geosciences Union from 2018 until his demise. He had held important positions in several other organisations as well.
Chris was a fine human being. He was warm and gentle, industrious and committed, humorous and jovial, understanding and accommodative. He was a mentor, guide and friend to many.
Chris was an educationist par excellence, a committed trainer, a visionary, an institution-builder, and an initiator of novel programs in earth science education. Chris, who worked at the University of Keele, was the keel of the "Earth Science Education" ship! Above all, he left an indelible impression on everyone he came across and on the earth science education scenario of the world.
The conferring of the Honorary Award today is in tune with several awards that he has received so far. For instance, the Distinguished Service Award of the Geological Society of London, the Halstead Medal from the Geologists' Association, and the Geoethics Medal from the International Association for Promoting Geoethics.
I request David Rowley and Doug Robinson to present the Honorary Award certificate of Chris King to his wife, Phoebe King, in Wells, England.
Remembering Chris – India 
Teacher Training Workshop, Bangalore

Teacher Training Workshop, Mangalore

Relishing his coffee, GeoSciEd conference, Hyderabad